Old
New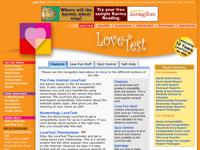 Well, not quite yet. Back in 1996, I didn't meet my deadline of February 14th and only released the original lovetest on the Internet on Februart 23rd, 1996 instead. At the time, I was still a student of computer science at the University of Liège (Belgium) and had just finished my mid-term exams.
The love test started back in high school in February 1991. There were various tests circulating in class and I wrote a program to analyse all the answers. From my friends, I received more suggestions how to increase the reliability of the test by adding more questions. Hey, we were young and bored… 😉
In late 1995, I decided that I wanted to learn how to write CGI scripts (with a database backend) to create interactive web sites. Taking examples from the books I was reading just didn't cut it. So I looked through my old diskettes to find the love test again. I thought it would be a nice project to convert it to the web. I started programming the online version of the love test just before my Xmas holidays. Then I had to postpone the work until after my mid-term exams in January. My mind was still set on the project and I tend to become restless when I can't finish a project in time. Actually, I also need the pressure of a deadline and will wait until the last moment to finish everything — staying awake on lots of unhealthy things like Coca Cola (no Pepsi!), coffee,…
When the test got online, it surged in popularity very quickly. There weren't a lot of interactive sites at the time. So I was a forerunner in online entertainment. Other CGI scripts were mostly used to link technical systems to the web — but using CGI for light entertaiment was unheard of. I guess it helps that my family runs an ISP business, so I had access to the servers and could change the servers according to my needs.
Who would've known at the time that the love test would stay on the web for so long. It's been 10 years now and more than 50 million people have taken my tests. Some of the tests I created on my own, others were licenced/bought from psychologists and astrologers. Yes, it's been an exciting 10 years, indeed. A lot of things we learnt through the LoveTest.com sites where passed on to our clients. They learned from our mistakes and successes. I received a lot of awards for the site: Yahoo! Pick of the Week, Most Visited WebSite in Belgium, Ask Jeeves Silver Platter Award, Cool Site of the Hour,…
Coming from a little-town background, with 200 dollars in my account, the lovetest and other entertainment sites started to create six figure revenues. Venture capital is nice, isn't it? I did without… Now many of those dotcom companies are gone and their shares with them… lost in cyberspace when the bubble burst. I'm still here and so is the love test! A single guy and a million women a month! 😉
Yes, it's been an exciting 10 years, indeed! Sometimes I wish I had more time to create new and advanced features. The LoveTest Deluxe is still on my mind but never got finished, so are the international versions. I'd like to create more tests: there are enough ideas in my head. However there are only 24 hours a day. Sometimes I wish the 800 pound gorillas of the Internet would think like the little ones. You can achieve a lot by applying guerilla and viral marketing instead of throwing money at the problems.
Well, the love test just received a face lift: a new modern design. More features are coming as time permits. Check the images above to see what the site looked like for the past couple of years and what it looks like now.
When you find your perfect match or dream date on Craig's List, then take them over to the LoveTest and see if it's really a match made in heaven…
I wish you all the best on Valentine's Day! May your days be filled with love and friendship.
Best wishes,
Joe.